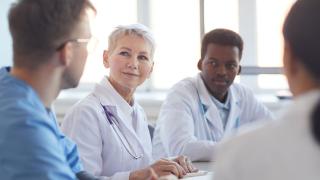 Partnering with physician practices for customized oncology appeal solutions
Our team of medical researchers and writers design appeals that help explain intricate case details to insurance companies so less care is written off
Patients are typically best served when physicians are addressing direct cancer care needs rather than managing administrative issues like appeals. Billing and coding teams often express that they do not have adequate staff, time and/or expertise to thoroughly address denials requiring appeal. Adding staff to meet appeal demands is expensive, and the appeal outcomes are not guaranteed nor is the ebb and flow of appeal demands consistent.
The Medical Mediation Services appeal team works to recover lost revenue from oncology cases that are denied for:
Medical Necessity
Experimental/Investigational
No authorization
Diagnosis coding
Upon assignment, we take the claim and customize a plan for each individual case based on the payer, the diagnosis/indication, modality, clinical guidelines, and current clinical literature.
This approach has led us to over a 90% success rate for Oncology appeals with major payers across the country.
Even better, fees are only charged for successful outcomes which means your goal of avoiding write offs is also our goal.